Meet Our Staff
Veterinary Doctors
Anna P. Davies, DVM, MS, Diplomate ACVIM
When I was seven years old I decided I wanted to be a veterinarian. I had accompanied my neighbor to her veterinarian with her sick German Shepherd, Pal, who I really liked. I was so taken by the veterinarian and the way he treated Pal, I knew this was the life for me. More than 50 years later, I am still very glad I followed through with that decision.
I have always enjoyed working with animal and their people. I am a problem solver and I love that job. Helping an owner keep their pet healthy or get their pet back to health is very rewarding to me. I enjoy education and the constant need to keep current. This has challenged me to go beyond attaining my Doctor of Veterinary Medicine degree (DVM) and get a Master's degree in veterinary Clinical pathology and to become Board certified as a Small Animal Veterinary Internist in 1985. My veterinary colleagues still refer to me as the "CE Junky" because I love to attend continuing education seminars.
Twenty-six years ago I started Crossroads Animal Hospital, LTD in Burnsville, MN. Owning your own small business certainly provides plenty of opportunity for problem solving. It has been challenging and rewarding. Overall, I have been privileged to work with longtime, dedicated support staff and outstanding and talented veterinarians. The icing on the cake has been the loyal clients and their special pets that have let me into their lives as their veterinarian.
I am very proud of Crossroads Animal Hospital, LTD and look forward to many more years as a practicing veterinarian.
Julie Michels, DVM
I have always considered myself to be a lucky person. I was lucky enough to know early on what I wanted to be "when I grew up", and even more fortunate in that what I wanted to be was a veterinarian!
I've lived in Minnesota for many years now, but I was originally an east coast transplant to the Midwest. I grew up in Maryland, but came west to the University of Illinois where I completed my undergraduate and professional degrees. I moved to Minnesota in 1984, a decision I've never regretted (even if I do complain a lot in January!). I worked at a variety of clinics for several years, primarily as a relief veterinarian, before finding a home at Crossroads Animal Hospital, LTD in 1989.
I have two children in their twenties ("transitional adults", as I call them). My daughter is in graduate school at St. Mary's in Minneapolis, and my son is a senior at MSU, Mankato. Although I'm something of an empty-nester these days, my 4 cats (Danny, Scully, Gracie and Mojo) and my Henry, make for plenty of company!
Tracy Langevin, DVM
I joined Crossroads Animal Hospital, LTD in 1991 and I wouldn't want to work anywhere else. I work with a great group of people — they all love what they do and want to provide the best care for our patients and their families. I'm fortunate to know so many families and their pets!
My undergraduate degree is from Carleton College in Northfield, MN. I obtained my degree in veterinary medicine from the University of Minnesota and then completed an internship at the University of MN, an intensive year of training in both medicine and surgery.
Outside of work (when not attending my son's soccer matches) I enjoy gardening, reading and running. My husband and I like to run the 10 mile and half-marathon races organized around town. With our daughter in college, we share our home with our teenage son, as well as Wally, our Newfoundland, and 3 cats — Toby, Lucy and naughty Lily (despite my husband's allergy to cats!)
Eva Mozey Etoll, DVM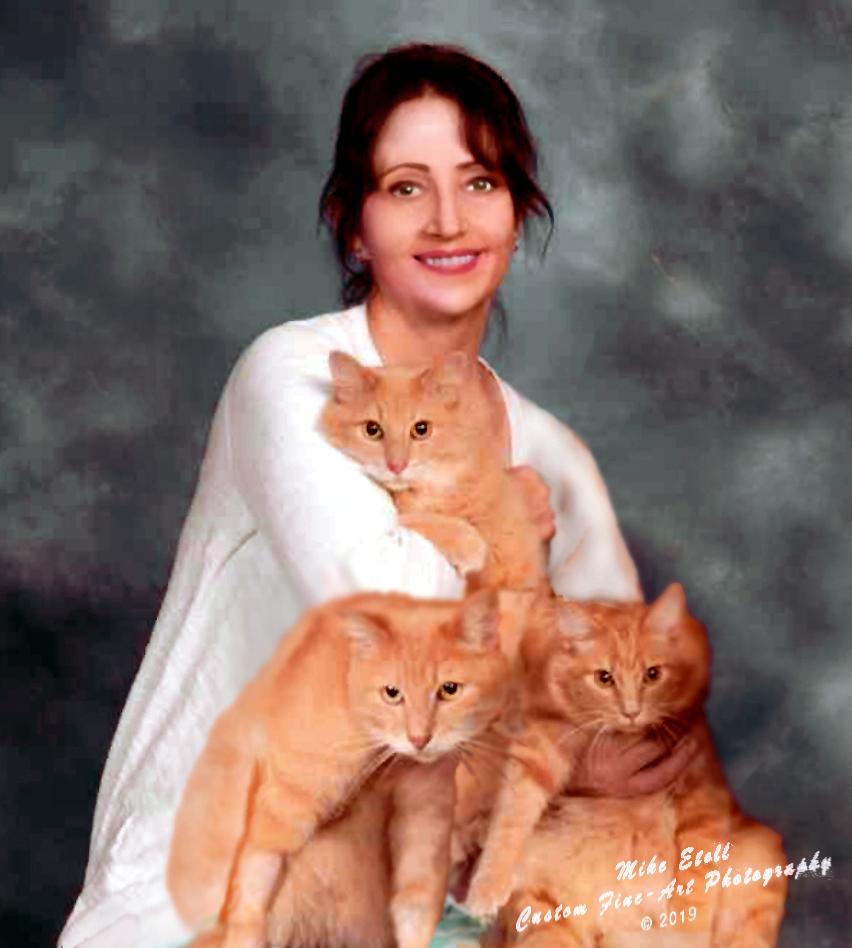 When I was little, I watched our cat get neutered. My sister fainted, but I thought that it was something I could do easily.
Although classes were not always considered "easy", I graduated from the University of Minnesota College of Veterinary Medicine in 1990. I've worked at several clinics before Crossroads Animal Hospital. I can say that Crossroads Animal Hospital Animal Hospital is my very favorite.
The staff at Crossroads really treats their client's animals like their own. The clinic is focused on keeping your pet healthy and does not recommend needless diagnostics. Our vaccination protocol is based on the current recommendations of the AAHA. I also love how important continuing education is at this clinic. I am interested in preventative medicine, geriatric medicine, and ophthalmology.
Outside of the clinic, I do house calls. My house call service is HouseCall VetCARE. My husband and I have worked on a Haunted House. We are trying to get another one going! We do face painting and the majority of art work at our church festival (St George Antiochian Orthodox Church in West St. Paul). I love painting, gardening, swimming, and traveling. We have three cats - my beloved JoJo, his litter mate Tubby, and our new edition Georgie. They are very time consuming, but worth it!
Certified Veterinary Technicians
Robyn
I joined the Crossroads Animal Hospital, LTD, team in June 2015, not long after graduating from Argosy University and earning my certification in 2014. Veterinary medicine is a second career for me, after working as a medical editor and freelance writer for many years. I stay busy spending time with my 2 daughters, 3 large dogs and many cats. Outside of work, I enjoy gardening, writing, reading and anything creative. I am proud to be part of a team of dedicated veterinary professionals who provide the best possible care to their patients.
Melissa
I have worked at Crossroads Animal Hospital, LTD since 2005.
Graduated from MIM/Argosy University in 2001.
Passed State and National Boards in June, 2001.
Special interest in Dental Care and Birds.
I am a foster mom for Secondhand Hounds.
Mother of 3, plus 1dog, 2 Guinea pigs and 4 birds.
Hobbies include spending time with my family & photography
Veterinary Technicians
Jenelle
Office Staff
Kasey
I have been with Crossroads since September 2021, after "retiring" from dog grooming for over 10 years. I own one Miniature Australian Shepherd, Bucky Barnes, and two cats, Kled and Glenda. My husband and I are video game aficionados, and regularly attend comic-con/anime conventions across the Midwest. We also enjoy international travel with friends.
Niki
I have been an Office Manager at Crossroads Animal Hospital, LTD since 1997. I am married with three kids. Our family also consists of 2 dogs, fish, a hamster and 3 fire belly toads. I am proud to be part of an animal hospital that truly puts pets (and people!) first in the care provided.
Katie
I have been at Crossroads Animal Hospital, since March 2012. I am married and have 2 children Tally & Gus, and 2 cats "Pickles" and "Cheddar". In my free time my family travels to see all the Major League Baseball stadiums in the US. I enjoy photography and play Volleyball, Softball.
"We've been bringing our little buddies to Crossroads over 20 years. I can't imagine taking a pet any where else. "— Darren D.
"Very caring staff! "— Carla P.
"We have trusted Crossroads Animal Hospital with the care of our furry babies for over 19 years. Our animals are our children and the doctors and staff help us through all issues, good and bad, providing the best life for our babies. We feel we are in the best possible care "— Julie and Greg S.
"I started going to Crossroads Animal Hospital in 1987. As with most people who love their animals, they are not just "pets", they are part of my family. The professional & personal care shown to them (and me) has always been outstanding from everyone at the clinic; I cannot say enough good things about Crossroads. I would highly recommend Crossroads Animal Hospital to anyone looking for quality, compassionate veterinary care. They are simply the best. "— Kelly C.
" From puppy-hood to adult dogs, the team at Crossroads has worked carefully, diligently, and most importantly, compassionately to meet our organization's requirements and provide the health solutions and care our dogs need. The real value of Crossroads is that you get a partner who truly wants to see your companion animal and family member healthy and happy and whose individual team members work with you to ensure they are. Thanks, Crossroads! "— PawPADS
"I found Crossroads Animal Hospital before I even moved to Minnesota! We had two pets, one with a serious chronic condition and other with a life-threatening acute condition, and needed to ensure continuity of care once I arrived in Minnesota. Dr. Davies, Dr. Michels and the staff at Crossroads Animal Hospital provided fantastic care to my pets for the rest of their lives. And they demonstrate amazing compassion and caring to my pets and to my family when our pets reached the end of their time with us. "— Chris B.
"I've always gotten very good care for my pets at Crossroads. My recent visit was no different. Thanks to a caring staff and great doctors. "— Paul and Nancy L.
"We were both very pleased with Dr. Davies we felt very confident, comfortable with her and we think Sami did too. "— Tim and Cheryl C.
"Our dog Raymond has been a patient at Crossroads for over a decade. The doctors and staff there have helped us through the ups and downs of his health. He wouldn't be alive today without them. Now they are helping us manage his senior years so he is as happy and active as a 15 year old dog can be. We are grateful to them in every direction for their expertise and loving support. "— Velvet W.
"The vets and staff are all so kind and caring. They go out of their way to make sure you understand everything. "— Ami and James B.
"Dr. Michaels has always been a very caring person which helps to make her the excellent vet that she is. She listens to us when we explain why we are there. She treats our dog with compassion. We never have to worry about the care our dog receives while she is at Crossroads. "— Bob and Julia C.
"Great! Good talk to the Dr. led to understanding a long standing issue with our dog. She was great to listen and gave us very useful information. A+++ visit! "— Roger and Lana J.
"Everything was great. Justice is doing super and we really do appreciate all that you guys do for our Roark puppies. "— Mike and Sue R.
"Dr Michaels and the staff provided excellent service.... Just as they have throughout all of my furry "kids" lives. They are loving, thorough, and wonderful. The best vets for almost 25 yrs of service!!! "— Steve and Sheryl S.
"Dr Michaels you are the best. Always love seeing you and the staff. You are very caring and always have my boys best interest at heart. "— Peggy H.
"As always, it's such a pleasure to visit Crossroads!! The staff are so friendly and efficient. "— Kathleen and Ron F.
"Everyone is always very friendly and care about the welfare of my pet. "— Marian and Daniel A.
"You guys do amazing work with my boy. Not just anyone can handle my dog and you do great with him. Thanks for always taking such great care of him!! "— Joey and Sara B.
"I always feel secure in knowing my dogs are cared for by the doctors at Crossroads. Great job!! "— David and Gail D.
"Great as always. "— Brian B.
"I highly recommend Crossroads Animal Hospital. We were so glad we chose this group when we rescued our dog. She was emaciated and sick from being on the road for a couple of months and Crossroads worked very closely with us to help bring her back to health. The vets and staff are very attentive and their love and caring for animals shows. Our primary vet is Julie Michels, she is knowledgeable, concerned, respectful (of both our dog and us) and communicates very well. We have seen other vets in the group as well and have found the same attitudes. If you are looking for a doctor for any of your pets, this is an excellent choice. "— Carrie H.
"Dr. Michaels is always focused on Princess. She puts us at ease with her calm demeanor. She will discuss any options, including cost, available for treating our dogs illness. The techs understand caring for a dog and are sensitive to our feelings. The office staff have a smile and are very attentive to the customer. They are also fun to joke with. All in all, an excellent place to take your pet. "— Bob and Julia C.
"New client to Crossroads. Needed an appointment for my 12 1/2 yr old female cat. Got the appointment quickly. Saw Dr. Julie. Couldn't have been happier with the entire experience. Excellent customer service, thorough exam on Callie, called the next day with results. Would highly recommend to anyone needing veterinarian services. "— Jean L.
"Very caring veterinarians and staff. They've taken the time to get to know us and our pets and remember us and our pets' medical situation. "— Robert and Kathy P.
"We are always able to get an appointment quickly and one that works with our schedule. The office staff is always friendly and helpful. The doctors also explain everything thoroughly and call us personally to explain test results, etc. "— Tony and Laurie C.
"Crossroads Animal Hospital is fantastic. I am so appreciative of all of the care they've given my pets. They are friendly and honest, flexible and great at what they do. "— Jennifer and Luke V.
"I have been using Crossroads for over 20 years to provide Vet. care for my cats. They are professional, caring. friendly, practical, helpful and expert in their care of my feline pets. "— Mary Ann and James W.
"The care Crossroads Animal Hospital provides is excellent! I've been bringing my pets here since you opened and would not consider going elsewhere. Thank you! "— Laura and Loren H.
"Dr. Langevin is wonderful. She obviously cares about pets and their care as well as the people who own them. She seemed knowledgeable about new treatments for my dog with epilepsy. "— Robin and Steven N.
"Very caring staff and vets at Crossroads, highly recommend! "— Carla P.
"We always feel welcome and feel that we get individualized care. "— Scott and Heather M.
"This is a great veterinary clinic. The employees are always friendly and knowledgeable. "— Jane and Mike S.
"Kelly is always sooooo friendly & helpful. You're very fortunate to have her on your staff. "— Sue L.
"I have been bringing my dogs to Crossroads Animal Hospital for over 16 years. The care from all of the staff there has been exemplary. They have all gone above and beyond on more than one occasion. From a volunteer to stay a little after hours because I couldn't get there before closing time, to the doctors who diagnosed a difficult problem of a very sick dog who was just 6 years old at the time. That dog is now almost 18 now and is doing great! I will be using Crossroads for all of my future veterinary needs and will highly recommend them to anyone who is looking for excellent care for their animals. "— Nadine O.
"Dr. Strecker is a wonderful vet. He goes above and beyond and obviously cares about dogs. He suggested a different medication that we could try to treat a long-standing medical problem of our dog that I was not aware was an option. "— Robin and Steven N.